Lace, spray paint, and ribbon, oh my! The DIY bride is both crafty and savvy, so we've collected our favorite DIY wedding projects found 'round Pinterest…
1. Wax paper dot garland via Green Wedding Shoes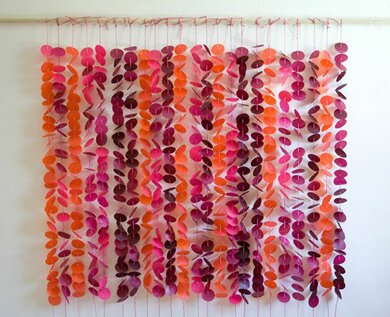 2. Sequin photo booth backdrop by Oh Happy Day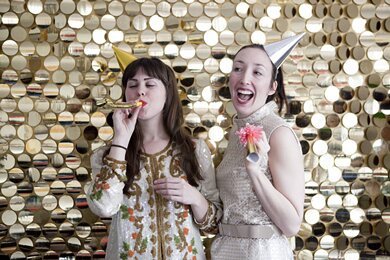 3. DIY gold and silver centerpieces by BHLDN



4. Spray-painted animal escort cards by Hatch Creative Studio



5. Gold mason jar via Joy Folie Blog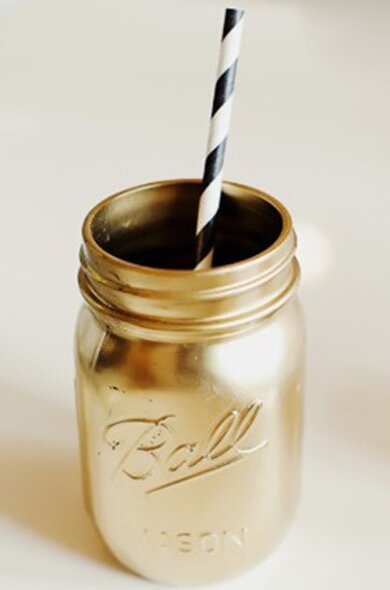 6. DIY confetti linen napkins by Design Mom



7. DIY Surprise Lanterns by Oh Happy Day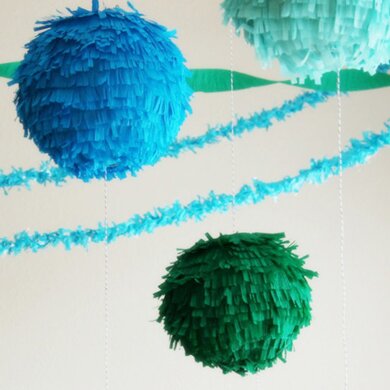 8. Fabric button boutonniere via Green Wedding Shoes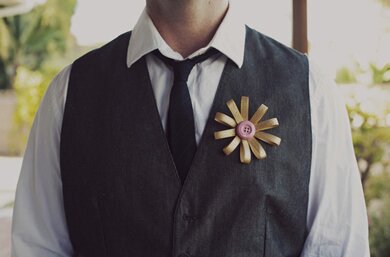 9. DIY confetti bags by Oh Happy Day



10. Fun ribbon chair decor via Green Wedding Shoes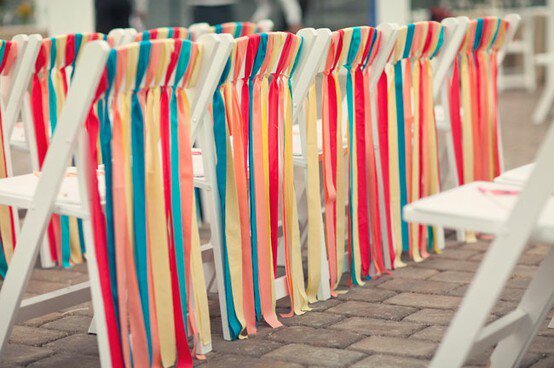 Additional Information
For more ideas, visit our DIY Wedding Ideas Pinterest Board!
July 2, 2012 | link | More: Things We Love

Wedding ceremony décor used to rely on beautiful scenery and a few large floral arrangements, but these days it has become a place where couples choose to truly express themselves. From oversized paper flowers to elaborate ribbon curtains and vintage furniture, the ceremony is your guests' first glimpse at the overall wedding theme, so if your location allows for it, go nuts! Here are 11 of our very favorite wedding ceremony backdrops from Pinterest...
1. Gold balloon and ribbon backdrop by Jesi Haak Design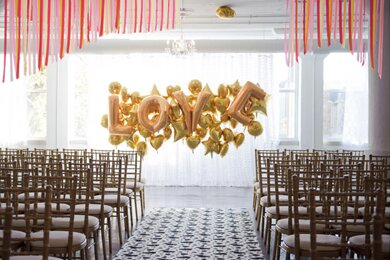 2. Bring the inside out photographed by Stephanie Fay Photography



3. Paper flower and pinwheel arch by Jesi Haak Design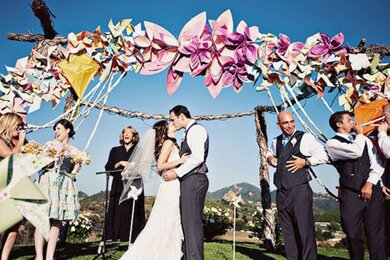 4. Ivory pendant flags and bistro lights via 100 Layer Cake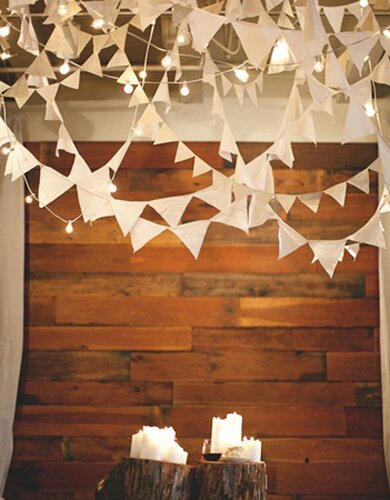 5. Simple, industrial ceremony backdrop via Ruffled Blog



6. Clock wall by Jesi Haak Design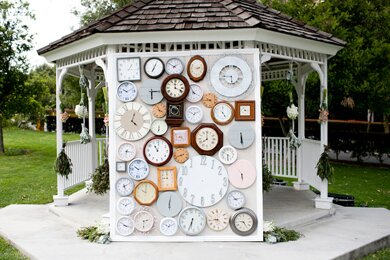 7. Decorated vintage shutter via Style Me Pretty



8. Custom chalkboard backdrop via Style Me Pretty:



9. Receipt paper backdrop via 100 Layer Cake



10. Vintage door backdrop by By Emily B. Event Design



11. Ribbon curtain backdrop via 100 Layer Cake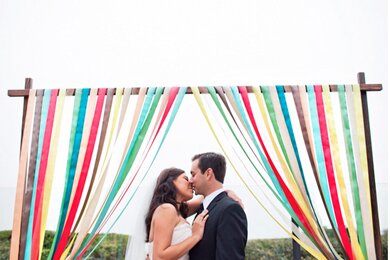 Additional Information
For more ideas, visit our Wedding Ceremony Pinterest Board!
May 29, 2012 | link | More: Things We Love

So far, this summer's weddings trends have been marked by gold details alongside bright colors, like mango and fuschia combined with bold geometric patterns, and we love all of that! But it was refreshing to come across this subtle, soft seaside photo shoot by Jose Villa and Joy Thigpen. The muted tones make a big statement and have us feverishly planning a trip to the ocean…



1. Oyster shell votives and an amazing Oyster Shell Garland with DIY directions to boot! Bravo, Honeysuckle Wedding Company and Once Wed; this is one of our favorite wedding DIYs to date.
2. Beautiful, free antler wedding invitations and $10 totes to match from Wedding Chicks!
3. Fourteen stylish city hall weddings from Refinery29.
4. A Banksy-inspired wedding with red balloons via Green Wedding Shoes.
5. This Jen Huang Photography Bridal Photoshoot Giveaway on Sippet & Ink! Send your entries by April 30, 2012.
6. We're totally swooning over this bride in pink Vera Wang photographed by Jeremy Harwell of Harwell Photography.
7. Don't miss Amanda's (the brilliant and beautiful blogger behind 100 Layer Cake) engagement shoot by Elizabeth Messina.
8. Lovely wedding hair ideas for 2012 from Latest-hairstyles.com.
9. Beautiful jewelry from Junghwa, perfect for brides and bridesmaids.
10. Oh, and we just adore this charming quote by Ernest Hemingway.
Additional Information
Above image by Jose Villa.
April 26, 2012 | link | More: Things We Love

So, you think planning your wedding is difficult? Check out these guys! They'll make you feel much better. And it's from the same producer as Bridesmaids? We're beyond excited…
Coming April, 27, 2012…


Additional Information
Get all the details on Tom & Violet's wedding blog! (So brilliant!)
April 10, 2012 | link | More: Things We Love

Here in New England, we woke up to a light dusting of snow this morning. Really, March? It was 80 degrees last week, and we're ready for spring. Here is the list of inspiring links that helped to cheer us up after that rude (and chilly) awakening…



1. Pretty beach wedding in the Bahamas photographed by Style Art Life Photography.
2. This Bliss Celebrations magazine cover shoot put together by some of our favorite New England event professionals.
3. A Phoenix elopement on Style Me Pretty with an amazing wedding video by Alea Lovely.
4. Fun vintage label metal canisters from save-on-crafts.com.
5. Did you pre-order a copy of Elizabeth Messina's Luminous Portrait yet?
6. This Libro Clutch from Scout and Catalogue would make a fabulous bridesmaids' gift.
7. Super cute DIY place card idea from Hatch Creative Studio.
8. Spring nail polish colors via The Beauty Department.
9. The February Kinfolk supper was super inspiring.
10. Love is…
Additional Information
Above image by Style Art Life Photography.
March 28, 2012 | link | More: Things We Love