Even though winter continues to hang on, we've got a busy wedding season ahead of us and we're busy hunting down über creative wedding ideas and inspiration to send your way. We kick off this week's collection of wedding links with a super pretty post from Elizabeth Anne Designs. We love how she put the spotlight on tarnished, vintage silver vessels and how they can be used throughout floral and wedding design. Enjoy that post and all the rest of the lovely links we collected last week…



1. Love this inspiring post about using aged silver by Elizabeth Anne Designs.
2. Since it's one of our favorite new movies, we obviously adore this Midnight in Paris Inspiration board on Green Wedding Shoes.
3. This Twigs & Honey shoot over on Kiss the Groom is wildly romantic and totally beautiful.
4. Beyond cute Valentine's Day wedding photographed by Adam Barnes.
5. Ila handbags has new vintage prints and an adorable spring/summer 2012 lookbook.
6. Giant peach flowers, eep!
7. Wery pretty wedding details photographed by Jemma Keech.
8. Neon Botanicals (swoon!) by the amazing Sania Pell.
9. Cute destination wedding tote bags from Wedding Chicks!
10. Love is this…
Additional Information
Above image by She Wanders.
February 21, 2012 | link | More: Things We Love

Is it just us, or is January taking its sweet time? It seems like forever since the holidays, and yet the end of winter is certainly not in sight. And to make matters worse, the weather in New England has been wholly unpredictable. We're totally ready for a sunny East Coast wedding season, and these yellow balloons (photographed by by Sarah Culver) helped remind us that it isn't too far off. But for now, enjoy this collection of links from January's final week…



1. A super fun wedding photographed by the fabulous Sarah Culver.
2. Pastels! And Eli Saab Spring Couture 2012 via Wedding Chicks.
3. Glitter cupcake flags handmade by TreatUrSweet.
4. A very pretty pink ombre cake on Call Me Cupcake!
5. We love bow ties and Forage Haberdashery.
6. Major sparkly DIY décor via Apartment Therapy.
7. This Thai Iced Tea recipe (and printable labels) from Elisa Mclaughlin Designs would be fun to serve at your outdoor summer ceremony.
8. Pretty paper backdrop ideas from Discover Paper.
9. These Personalized Wish Bracelets from Just Believe by Belinda would be a great gift for your bridesmaids.
10. Is all the wedding planning stressing you out? The Practical Ryan Gosling is helping brides stay sane with an added dose of hotness.
Additional Information
For more, follow our editor KB on Pinterest!
January 30, 2012 | link | More: Things We Love

As we dive into 2012, we've been reflecting on some of our favorite wedding trends of 2011, and mismatched bridesmaid dresses is definitely at the top of our list. What we love most about this trend is that everyone's personal style shines through the fabric, shade, and cut of the dress they choose. So, we're kicking off this collection of links with some advice from Belle the Magazine about following this trend successfully…



1. Great advice for successfully having mismatched bridesmaids from Belle the Magazine.
2. DeAnna Pappas and Stephen Stagliano's southern chic wedding on Green Wedding Shoes!
3. This protea wedding bouquet on Style Me Pretty takes our breath away.
4. Sequin Photobooth DIY from Oh Happy Day!
5. A beautiful and breathtaking boudoir shoot by Elizabeth Messina on Kiss the Groom.
6. Adorable save-the-date ideas over on the Bridal Guide.
7. Great wedding bouquet recipes from Wedding Chicks.
8. Super-chic glitter-covered mason jars via The Sweetest Occasion and Pinterest.
9. Loving all the unique details in this Victorian Steampunk-inspired wedding on Ruffled Blog.
10. Take a peek inside our newest issue of GALA Weddings magazine for tons of fresh inspiration!
Additional Information
Top image by Jill Thomas Photography.
January 9, 2012 | link | More: Things We Love

With the holidays upon us, we're thinking about cool, blush hues, winter weddings, signature cocktails, and things that sparkle! This week's collection of links includes all of that and more. Get inspired by our favorite finds from around the web…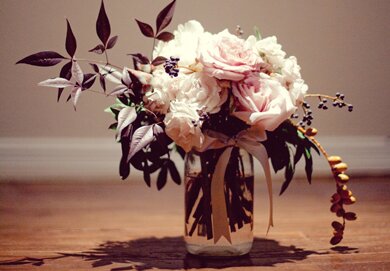 1. We recently fell head over heels for The Nouveau Romantics. Their wedding flower arrangements, like the one above photographed by The Nichols, are modern and sophisticated.
2. Photos from Lauren Bush and David Lauren's Labor Day wedding have been reveled on Vogue! Could that Ralph Lauren gown be any more gorgeous?
3. The perfect winter white nail polish by Essie.
4. These mini-fir trees planted in vintage containers would be adorable addition to a winter wedding.
5. A simply stunning wedding photographed by Jill Thomas.
6. Elizabeth Fillmore's 2012 bridal collection is totally swoon-worthy and has a little something for everyone.
7. Love this woodsy bohemian photo shoot on Green Wedding Shoes.
8. This Pineapple Vanilla Flirtini with Pomegranate Seeds by Jenny Steffens Hobick looks festive and delicious!
9. Free holiday card templates from The Wedding Chicks!
10. If there is ever a season in which to embrace a little sparkle, this is it. Happy Holidays!
Additional Information
For more, follow our editor KB on Pinterest!
November 21, 2011 | link | More: Things We Love

We've been inspired by the seasons lately as fall carries us closer toward winter. The colors, the food, the holiday parties – we love it all because these are seasons of celebration, and celebration is what brings people together. So, as you plan to bring your people together to celebrate your nuptials, get inspired by this lovely collection of wedding inspiration…



1. We're kicking things off with these two amazing images from Rebecca Arthurs Photography. They're part of this stunning Rhode Island Wedding featured on Ruffled Blog.
2. Winter wedding style photographed by Sloan Photographers.
3. We're head-over-heels for the Two Birds Bridesmaid gowns in this Vero Beach Wedding.
4. Make this vintage sequin bolero jacket from Bread & Butter Vintage your "something blue."
5. Jump for joy! We love Elizabeth Messina's photography.
6. One of our favorite DIY projects to date: Tissue Covered Luminaries from Hey Gorgeous Events!
7. Add some sparkle and sass to your winter wedding ensemble or holiday party getup with these Kate Spade shoes.
8. Solid wedding advice on Huffpost Weddings.
9. A gorgeous feather-embellished wedding cake!
10. We sort of died over this romantic shopping trip to the BHLDN boutique in Houston documented by Blue Bird Vintage.
Additional Information
Follow our editor, KB, on Pinterest for all kinds of fantastic wedding inspiration!
October 13, 2011 | link | More: Things We Love