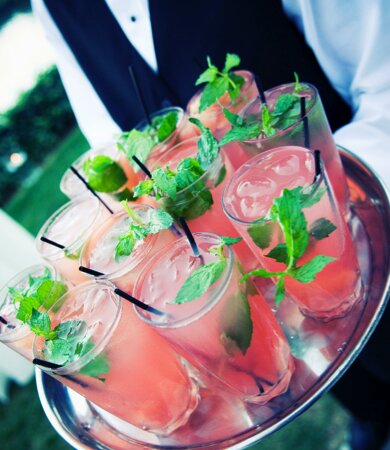 Signature cocktails rank high with some of our favorite wedding décor details. If you can create a delicious cocktail and match it to your theme, you're golden. With one in the hand of every guest, you've got your color scheme mingling around the reception – and it's downright classy.
Pink Mojito
1 fl. oz. fresh lime juice
1 tsp. caster sugar
Mint leaves
2 fl. oz. white rum
Dash of cranberry juice
Splash sparkling water
Tip: Place your mint leaves, sugar, and lime juice in the glass first and crush; the lime juice and sugar help to break down the mint and release the flavor. Then add rum, cranberry juice, and sparkling water; stir and pour over ice.
More fresh ideas for your wedding's signature cocktail are coming soon.
Additional Information
Photo by Ludwig Photography
July 1, 2010 | link | More: Inspiration Closet