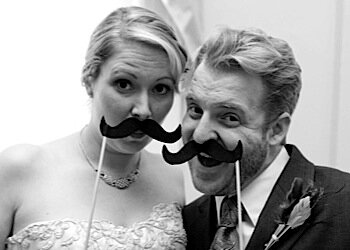 The mustache craze has made its way to a wedding near you, of this I am sure. It isn't for everyone but for the not-so-serious couple, it is a fun wedding favor that will encourage your guests to loosen up and get silly in front of the camera. Here are some wedding mustache resources and a couple do-it-yourself guides for a fun pre-wedding activity with an amazing outcome. And of course, no one can deny the great photographic memories you will be left with ...
DIY:
Even Martha Stewart does the mustache on a stick.

Designer Lisa Welge has her own mustache techniques.

Wedding Mustache Resources:

Michelle at A Wedding Sketchbook asks 'Fake Moustaches, Are They Hair to Stay?'
Something's Hiding in Here shows off a couple mustache weddings.
Have your pick of mustache type when you purchase them at MaroDesigns.
Additional Information
Katie and Michael were photographed here by Liesl Clark of Claris Photography.
Watch for their story coming to www.Elegala.com's Real Weddings soon!
April 7, 2010 | link | More: Do it Yourself