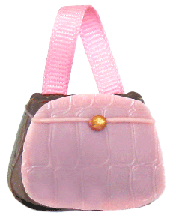 Alas, the favor gods have smiled… Behold the long-awaited food and fashion fusion. Treat your guests to Stoli ganache-filled "Pravda" handbags. This twist on the traditional wedding favor is a tiny chocolate handbag in baby pink croc and adorned with an edible candy pearl clash. Who doesn't love edible couture?
Additional Information
Visit chocochocohouse.com to order two-piece favor sets ($6.50/set; discounts on orders over 50)

Preferred vendor listed in the Portsmouth, New Hampshire Wedding Event Planners section of Decidio.com
Visit the Top 100 Wedding Websites!
Flowers Directory
Add Your URL FREE, Boost Your Web Site's Traffic & Rankings
Web Directory - www.flowersdirectory.org
Wedding Planning at
: Honeymoon Travel Agents and Wedding Accessories

Bloomcentral-Comprehensive florist web Directory.
http://www.FlowerGreat.com
http://www.favorlabel.com
July 14, 2008 | link | More: