This soft color palette suits a mid- to late-winter wedding with its cool temperatures and dashes of green found in pine trees and the first spindles of grass peeking through the snow. The silvery winter white seems cold at first, but once surrounded by the other hues and a little sparkle, its true warmth shines through.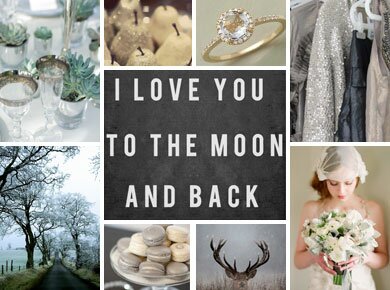 Top Row:
Succulents and silver via The Bride's Cafe
Sparkly pears via Pretty Shiny Sparkly
White Rose Ring via Sundance
Sparkly fabric via Habitual Bliss Tumblr
Middle Picture:
I Love You to the Moon and Back via Pinterest
Bottom Row:
Wintry scene via Haute Mama's Favourites Tumblr
Macaroons by The Caketress via Sweet Designs: A Blog by Amy Atlas
Deer image via Ffffound Tumblr
Beautiful bride with bouquet photographed by Elizabeth Messina of Kiss the Groom
Additional Information
For other pretty photographs and lovely wedding inspiration, follow us on Pinterest!
December 21, 2011 | link | More: Inspiration Boards