Vermonters and New England Brides alike, we've got a fast-moving giveaway! Hurry up and get entered to win two tickets to the Vermont Wedding Affair on Saturday, October 29th. We attended this event last year and had an amazing time, so we're super excited to get to send an engaged couple to this year's rustic-chic world of wedding wonder!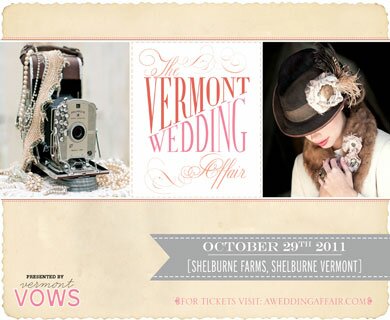 Enter to win these fabulous tickets by leaving a comment on our Facebook wall telling us why you would like to attend the event. The drawing will be held Friday, October 27!
You won't want to miss this year's event...
Handcrafted details will set the tone for an inspiring showcase of inventive decor and complimentary, homespun fare, including chocolates, pastries, cheeses and cakes. Even better, a silent auction of fabulous gift certificates and luxury items will benefit those affected by Hurricane Irene, and each lucky bride-to-be will receive a gift bag containing fabulous local goodies. Attendees will have the chance to mingle with the some of the best wedding professionals in Vermont before heading into the spa to enjoy relaxing hand and foot treatments, and hair and makeup consultations. From bridal couture, to workshops and seminars, if you are planning a Vermont wedding, this is an event not to be missed!
Additional Information
For more information visit aweddingaffair.com!
October 27, 2011 | link | More: Great Giveaways