With spring officially in the works, we're very much inspired: from green shoots bursting through the soil to trees with their tiny new buds – sigh. From ethereal attire, fit for a fairy princess, to soft moss tablescapes and big, earthy blooms, we're thinking whimsical woodland weddings are a must for this spring season.


Top row:
Ranunculus via Jitterbug Vintage Weddings
Flapper Inspired Bridal Headband by Twigs & Honey
Bird's Nest via Simply Nice Gifts
Middle:
Faux Wood Invitation via Magpie Paperworks
To Love and to Cherish rustic wedding sign from Go Jump in The Lake
Vintage Chair via Green Wedding Shoes
Cake via The Lane
Bottom:
Cowboy boots via Utah Bride Blog
Tablescape by Poppies & Posies
Bouquet via Jolie Jolie
Additional Information
"Like" www.eleGALA.com on Facebook for all the latest updates.
March 22, 2011 | link | More: Inspiration Boards

Inspired by the fashion industry's top colors for 2011, we created a collection that showcases what blue and green can accomplish as a well-styled team. It's a fabulous, fun combination for your upcoming wedding, no matter the time of year.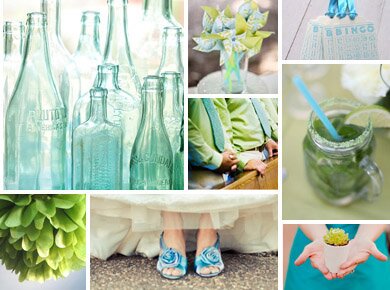 Top:
Antique bottles from Leaping Gazelle
Pinwheels via Elizabeth Ann Designs and April Foster Events
Bingo Cards from Happy August
Middle:
Groomsmen photo by Bello Photography
Mojito via Elizabeth Ann Designs and April Foster Events
Bottom:
Tissue Pom from Fiesta Pom Pom
Blue shoes via Wedding Obsession shot by Sarah Mavro
Succulent favor photographed by Elyse Hall Photography
Additional Information
Get super fun updates by following us on Twitter and Facebook!
February 23, 2011 | link | More: Inspiration Boards



We've been talking about soft, blush pinks for months, and we adore them even more when paired with a subtle, silvery gray and touches of ivory.
Top:
Cardamom rose cocktail via Design Sponge
Maggie Austin Cakes
Center:
Flowers via Style Me Pretty
Love & Tenderness by Ivy & Aster
Shimmer Sash Clutch by Eclu
Bottom:
Gray striped straws via Southern Weddings
Pink wedding shoes via Style Me Pretty
Additional Information
Follow www.eleGALA.com on Twitter and "Like" us on Facebook! It's fun; we promise.
February 10, 2011 | link | More: Inspiration Boards


Planning a winter wedding? Get inspired by warm ivory and shimmering slate.
Top Row:
Vintage Honeycomb Wedding Bells from All Things White
Love Polaroid Style Memo Post-it by Woodland Room
Gown by Ouma
Center Row:
Necklace photo by Jagger Photography
Bouquet photo by Elizabeth Messina
Ring Bearer Bowl by Paloma's Nest
Bottom Row:
Moonshadow Peony Clutch by Eclu
Boutonniére by Pomp & Plumage
Veil by Twigs & Honey
Cake from Martha Stewart
Additional Information
Get more information on planning a winter wedding in www.eleGALA.com's Ideas & Advice section.
October 28, 2010 | link | More: Inspiration Boards


Butterflies are magical, romantic, and just plain lovely. Theme your wedding with our top finds from amazing Etsy artists.
Left column (top to bottom):
Butterfly Collection Necklace - Woodland Belle
Butterfly Place Cards - Timeless Paper
Wedding Wish Tree Tags - Bag of Tags

Right column (top to bottom):
Die Cut Butterflies - By Emma
Butterflies & Buds Wedding Invitation - Miss Print Design
Cocoon Butterfly Hair Comb - Which Goose
French Vintage Butterfly Garland - Paper Clip Design
Additional Information
Get inspired by other handmade wedding stories in Etsy's blog.
September 28, 2010 | link | More: Inspiration Boards