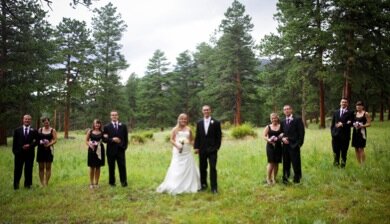 Deb Szalejko and Matt Kirinovic take pride in their ability to roll with the punches. Planning a Colorado wedding while living in Switzerland? No problem. And when rain threatened to ruin their outdoor wedding ceremony, they simply found some umbrellas. But it was five months prior to their nuptials that they faced the ultimate challenge: Deb's visa expired unexpectedly, forcing her to fly home to the states while Matt finished his job in Switzerland. But this couple found a way to make it work. "I had ample time for DIY wedding projects!" says Deb of her lemons-to-lemonade outlook. Even choosing a date exercised their easygoing attitudes when their dream venue, Della Terra Mountain Chateau in Estes Park, was booked on their desired Saturday in August. They shrugged it off, moved the celebration to the following Monday knowing their small guest list of 75 would be able to make it work, and happily realized that meant their wedding day would fall on 8/9/10.
Additional Information
See the rest of the gorgeous details from Deb & Matt's wedding in www.eleGALA.com's Real Wedding section.
Submit your wedding to be featured on www.eleGALA.com!
December 2, 2010 | link | More: Real Weddings