Holly & Bill
Providence , RI
The Providence Biltmore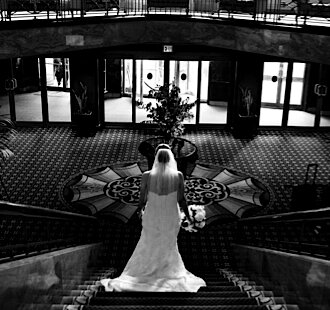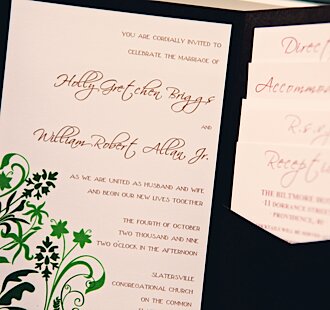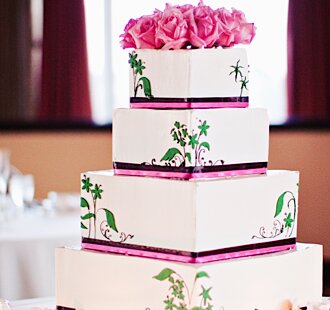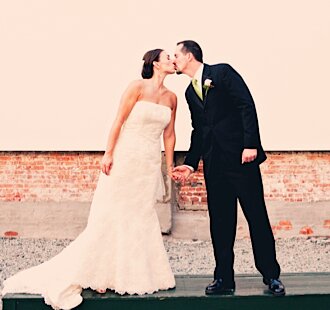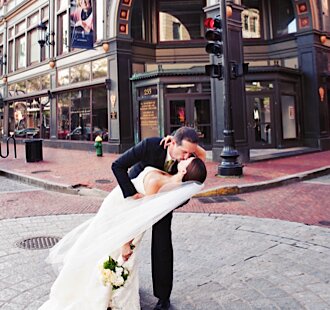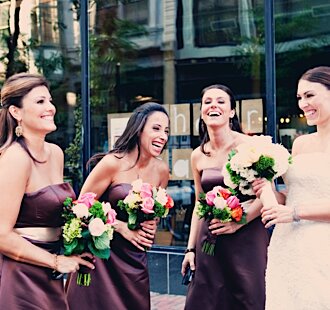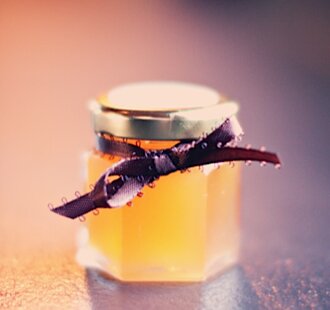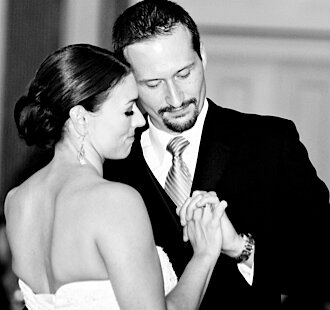 Click on the photos for more details


Big Love in a Small State
The Bride: Holly Briggs
The Groom: Bill Allan
Wedding Date: October 4, 2009
Venue: The Providence Biltmore

Holly Briggs knew she needed a night out after a tough day at work in October 2008. She was pleasantly surprised when she found that Bill Allan, whom she had been dating for the past eight years, had already planned one: dinner at The Deck in Newport, Rhode Island, the restaurant where the couple had first met in the town where they got their first apartment together. It was after dinner, at Second Beach, the very same beach where they had shared their first kiss, that Bill got down on one knee and surprised Holly with a ring. Keeping with their connection to Rhode Island, they planned an October wedding in Providence.
Reception Venue – Vintage & Views

For this couple, the historic Providence Biltmore Hotel fit the bill and then some with its 292 rooms and rooftop Grand Ballroom that boasts enormous windows and breathtaking views of the city. Holly fell in love with the hotel's sophisticated, vintage feel and worked hard to have other elements throughout the event reflect that sense of style.

Stationery & Cake – Personalized Designs
Bathrobe Designs created cream-colored invites with a personalized graphic. "They sent me 10 different options, and I loved the two-tone green floral design so much that it became the theme of the entire wedding," says Holly. The image found its way onto the cake, programs, and table numbers. The invites then came tucked inside chocolate brown pocket folds secured with hot pink ribbon. The monogrammed seal also included a smaller version of the leafy graphic.

Stationery & Cake – Personalized Designs
Bathrobe Designs created cream-colored invites with a personalized graphic. "They sent me 10 different options, and I loved the two-tone green floral design so much that it became the theme of the entire wedding," says Holly. The image found its way onto the cake, programs, and table numbers. The invites then came tucked inside chocolate brown pocket folds secured with hot pink ribbon. The monogrammed seal also included a smaller version of the leafy graphic.

Wedding Gown – Comfortable & Elegant
Holly didn't have a specific designer in mind when she went in search of her wedding gown, but she immediately fell in love with Maggie Sottero's Philipa. Its classic lace overlay was fitted with a gentle flair while the small, modest train allowed Holly to move freely throughout the day. The dress had a somewhat simple feel, but the lace gave it that sophisticated elegant touch she was after.

Photography – Street Scene
Boston-based photographer Melissa Robotti told this couple's story with timeless class. She captured unique urban moments, utilizing the architecture of downtown Providence, and even shooting photos of the couple kissing under the streetlights in an often very busy intersection. Robotti's photographs are filled with soft light, and she uses her setting to the fullest. "A couple times I thought, 'What are we doing in this wet alleyway?'" Holly recalls. "But the results were amazing."

Photography – Street Scene
Boston-based photographer Melissa Robotti told this couple's story with timeless class. She captured unique urban moments, utilizing the architecture of downtown Providence, and even shooting photos of the couple kissing under the streetlights in an often very busy intersection. Robotti's photographs are filled with soft light, and she uses her setting to the fullest. "A couple times I thought, 'What are we doing in this wet alleyway?'" Holly recalls. "But the results were amazing."

Photography – Street Scene
Boston-based photographer Melissa Robotti told this couple's story with timeless class. She captured unique urban moments, utilizing the architecture of downtown Providence, and even shooting photos of the couple kissing under the streetlights in an often very busy intersection. Robotti's photographs are filled with soft light, and she uses her setting to the fullest. "A couple times I thought, 'What are we doing in this wet alleyway?'" Holly recalls. "But the results were amazing."

Favors – Meant to Bee
Holly's mother and stepfather keep beehives as a hobby, and each year they harvest the honey. For the wedding, Holly's mother packaged their honey in 150 small jars and tied each with a colored ribbon corresponding to the wedding colors of brown, green, and hot pink. The jars were finished with a label that included their names, wedding date, and read, "Meant to…" followed by a picture of a bee.

A Lasting Memory - Making an Entrance

Vendor Resources
Photography:
Melissa Robotti
Boston, MA
781-316-1802
melissarobotti.com
Videographer:
Wedding Stories
John Cipolla
401-49-1901
weddingstoriesri.com
Flowers:
Jeff & Company
East Greenwich, RI
401-413-7541
jeffsweddingandflowers.com
Stationery:
Bathrobe Designs
Kristina Nashold
Bathrobe Designs Website
Wedding Cake:
Corby Cakes & Cookies
Cranston, RI
401.480.4436
corbycakesncookies.com
.(JavaScript must be enabled to view this email address)
Catering:
Providence Biltmore
Providence, RI
401-421-0700
providencebiltmore.com
Bride's Gown:
Maggie Sottero
Philipa
maggiesottero.com
Bridesmaids:
Bill Levkoff
billlevkoff.com