Ivy & Aster, the most recent object of our affection, creates gorgeous, whimsical, and unique gowns. Whether fairy princess or fashionista, their collection has a gown that will suit your wedding style. We're preparing to tell their story in Unveiled soon, but for now we present to you our Gown of the Week, In Bloom by Ivy & Aster. Silk organza tiered layers? We could eat this gown for dessert.

Additional Information
Photo by Sweet Little Photographs.
Get Gown of the Week updates by following us on Twitter!
January 19, 2011 | link | More: Wedding Wardrobe

We're always on the prowl for unique and different bridesmaid designs. Joanna August definitely brings something new to the table while remaining flexible with color and style. The collection is fresh and fabulous with a variety of fashion-forward designs that can be mixed and matched so your girls can express themselves accordingly. The colors are vibrant, the fabric is flattering, and the lines are more than modern.



Only discussing her bridesmaid collection would be a serious oversight as the Joanna August bridal collection is equally gorgeous. With all of this borne from August's own 2008 nuptials, the entire line fights conventional wedding standards while offering a creative approach to what every brides wants: a gorgeous wedding that reflects their own unique style.



We adore Joanna August, and you will, too. See both her bridal and bridesmaid collection at an upcoming trunk show near you.


Additional Information
Additional trunk show information can be found at JoannaAugust.com.
See more of Joanna August's gorgeous designs in eleGALA.com's Bridesmaid Photo Gallery.
January 5, 2011 | link | More: Wedding Wardrobe

Choosing a wedding gown you love from Watters isn't very hard. There is something for every bride in their vast and gorgeous collection. This week, we love Sydney. Watters has wowed us again with this ivory strapless, antique-patterned, embroidered lace gown. An etherial oatmeal tulle overlay falls gently from an ivory lace applique bodice, and we swoon.

Additional Information
Get more information about this gorgeous wedding gown on Watters.com.
December 31, 2010 | link | More: Wedding Wardrobe

Claire Pettibone's continuing collection includes some of our favorite wedding gowns of all time, and this week's gown, Forget Me Not, is no exception. The delicate blush hue attracts us at first glance, but it isn't the only defining feature. The silk charmeuse gown features a lace bodice and tulle overskirt trimmed with scattered flowers and leaves. A lace-edged sweep train finishes this gorgeous sheath.

Additional Information
Find more information about Forget Me Not at ClairePettibone.com.
December 23, 2010 | link | More: Wedding Wardrobe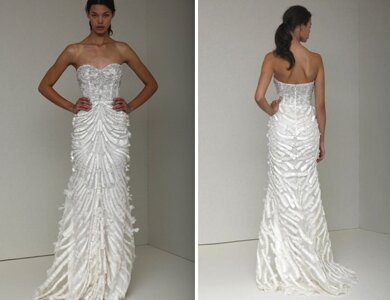 Monique Lhuillier does it again with this lavish and sexy strapless, sheath gown. How can you not fall in love with the corset bodice and textured skirt? And the sparkle? Yes, please!
Additional Information
To see more gorgeous gowns, visit our photo gallery of wedding gowns!
December 14, 2010 | link | More: Wedding Wardrobe